Frequently asked questions
What is PrintableHeroes?
PrintableHeroes creates print-ready miniatures (or minis) for Dungeons and Dragons or other table top role-playing games and then releases them for free each month. This can offer a cheap D.I.Y. way of making high quality miniatures.
How does it work?
When you go to the minis page you can search for the mini you want to print. Once you found the mini you are looking for, you can view a preview of the mini and the different color options. Here you will also find a list of files you can download. Most minis have files that can be downloaded for free. The free files will consist of a pdf file. Because the pdf is interactive it is recommended you use Adobe Acrobat Reader DC to open them and not your browser. This can be downloaded here.
When you open the file it will look something like the image to the right. below.You can click the minis and bases to cycle through the different color options. Images and bases that are left on the default option will not be printed. Now you can print the minis, cut them out, glue them together and start playing!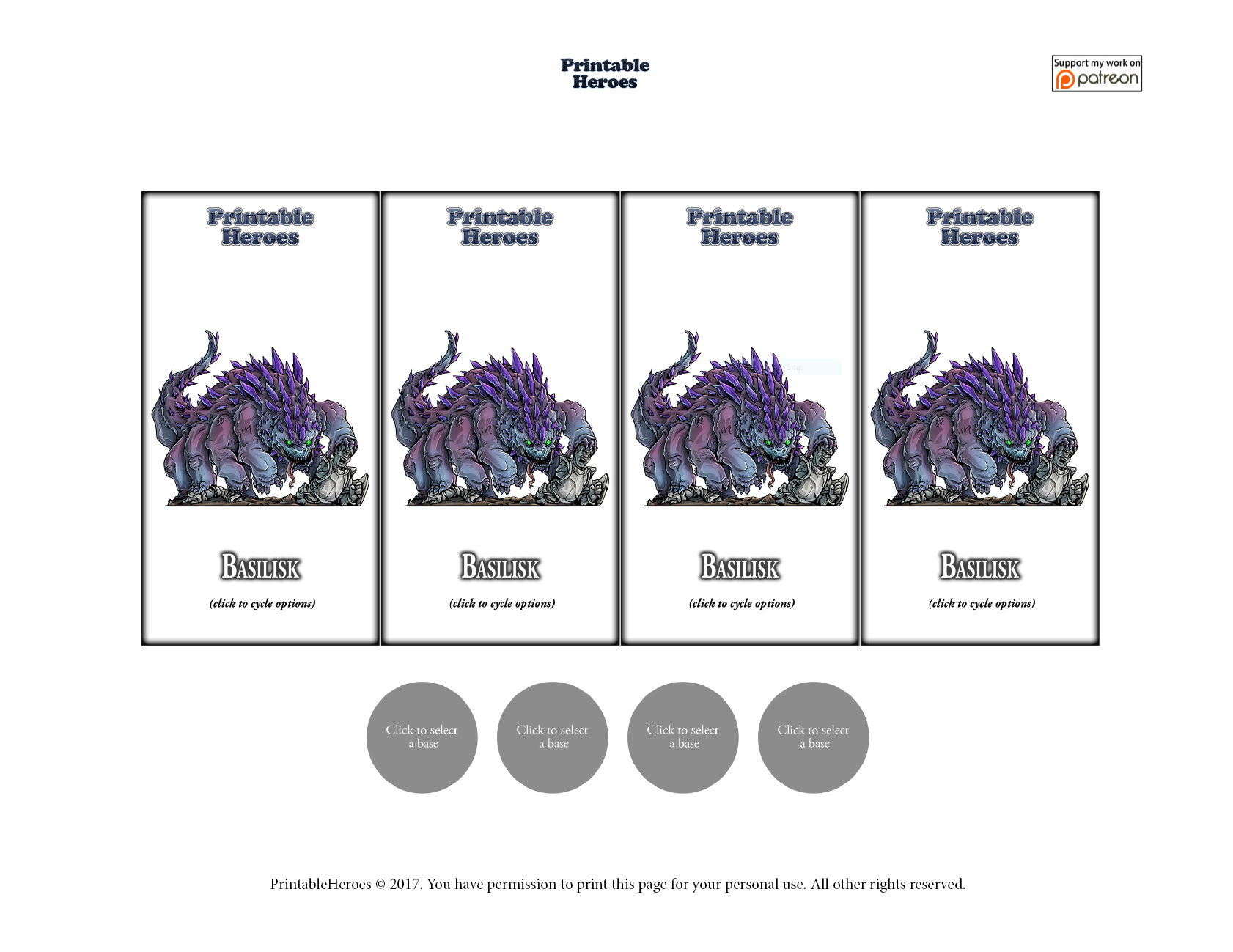 What paper should I use?
Glossy photo paper is recommended to achieve the best colors. Thickness is measured differenly dependending on where you live, please see below for the recommended thickness.
Imperial
For standard sized minis: 52lb. For larger minis: 68lbs.
Metric
For standard sized minis: 200 g/m2. For larger minis: 250 g/m2.
How should I glue the minis?
JPsCreations has made a nice tutorial on youtube to show you how to put the minis together using some different methods.
How do I find the mini I'm looking for?
You can use the searchbar on the minis page. Here you can enter (part of) the name of the mini you are looking for. Alternatively, you enter tag names. Examples of tags: Humans, humanoid, orc, devil, shield.
I have feedback or suggestions, where can I leave those?
You can post them on the Patreon page or you can join our discord channel.
How do i join the discord channel?
The discord channel is exlusive to patrons. Patreon has an article explaining how, you can view here.
If you have any further questions or suggestions you can leave them on one of the discord channels. If you would like to hang out and chat with fellow dungeon masters you are very welcome as well.
What minis are you working on?
There is a Trello page that shows what minis are being worked on right now including how far along they are.